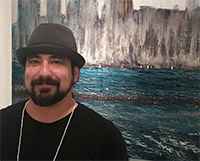 JIM INZERO
 

Jim Inzero (American b. 1972) earned his Fine Art Degree in Interior Architecture from Maryland Institute College of Art.

He traveled in Mexico and studied under encaustic painter, Ezshawn Winding.  A transformation in his painting accompanied his career migration from Connecticut and residing on the Metedeconk River, Ocean County, New Jersey in 2001. 

Inzero reflects his life-long attraction to the shore and its surroundings in his work.  The movement and serenity in Inzero's work conveys the gratitude and bounty expressed by the ocean environment.

Inzero is constantly inspired by the connection he feels to the people around him, which allows for a unique opportunity to express energy and emotions in a way that ultimately will always begin and end at the horizon; the horizon in which he feels represents the meeting place for the highs and lows of life.